Willamette Perspectives
Grant Crum
In Cecil v. Commissioner, the U.S. Tax Court was faced with a dispute involving the valuation of a noncontrolling interest in a privately held S corporation. The valuation experts retained by the taxpayers and the Internal Revenue Service tax-affected the earnings of an S corporation and applied the S Corporation Economic Adjustment Multiple, even though both analyses had not been generally accepted by the Court. The ruling provides valuation analysts with guidance about valuing a noncontrolling interest in S corporation stock.
Tia R. Hutton and Lisa H. Tran
In utilizing the guideline merged and acquired company method to estimate a value for a closely held company, particularly a smaller business, the valuation analyst typically will find more transactions of private guideline companies than publicly traded companies. Most transactions of small, private companies are structured as asset sales. Although both asset sales and stock sales can be used to develop a value indication for a subject company, it is inappropriate to combine the transactions without making proper adjustments. Assets sales and stock sales are different transaction structures, and the transaction price often reflects the transfer of different assets and liabilities, which will have a direct effect on the pricing multiples used to value the subject company.
Timothy J. Meinhart and Marc D. Bello
Marc Bello has joined Willamette Management Associates in the midst of a distinguished 20-year career in business valuation and forensic analysis. For Bello, success stems from many skills, but particularly important are education, personal development, and integrity. Understanding the financial landscape is crucial to business valuation and forensic analysis because it leads to proper questions that produce the necessary documents essential for a supportable result. Additionally, incorporating a wholistic approach that analyzes industry and nonfinancial data leads to a supportable valuation. Finally, clear communication creates understanding between an analyst and a client throughout an engagement.
Willamette Insights and Perspectives Back Issues
April 2023 Perspectives
Editor for this issue: Charles Wilhoite and Scott Miller
Winter 2023: Best Practices
Editor for this issue: Robert F. Reilly, CPA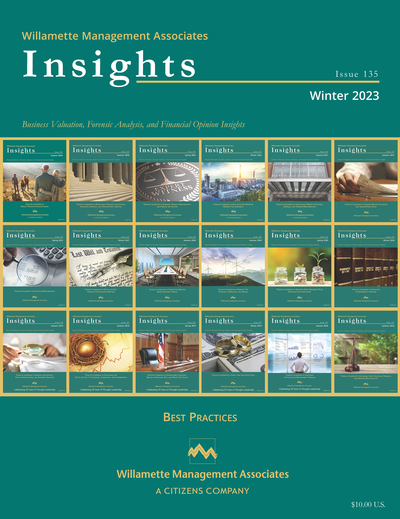 Transfer Tax Valuation Thought Leadership
Damages Measurement Thought Leadership
Property Appraisal Thought Leadership
Fair Value Measurement Thought Leadership
Valuation, Damages, and Transfer Price Thought Leadership
Reasonableness of Compensation Analysis Thought Leadership
Autumn 2022: Thought Leadership in Wealth Transfer Valuation Issues
Editor for this issue: Weston C. Kirk
Summer 2022: Thought Leadership in Professional Practices and Licenses Valuation, Damages, and Transfer Price Analyses
Editor for this issue: Samuel S. Nicholls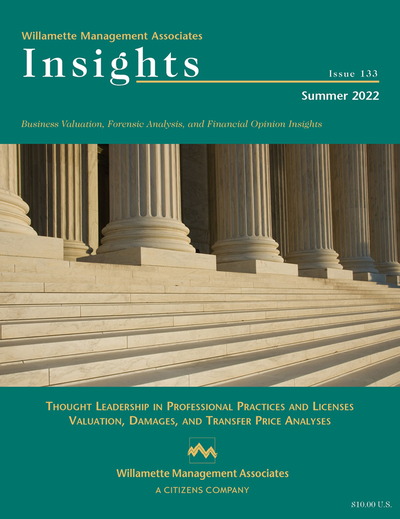 Professional Practice Valuation, Damages, and Transfer Price Thought Leadership
Professional Practices and Licenses Valuation Thought Leadership
Income Tax Thought Leadership
Winter 2022: Thought Leadership in Unit Valuation Principle Property Tax Appraisals
Editors for This Issue: Connor J. Thurman and John C. Ramirez