Willamette Perspectives
Nathan M. Hesch
Environmental, social, and governance ("ESG") investments have seen significant growth over the past two decades. Research has suggested that ESG status has important implications for equity valuations. In this article, we examine several studies that provide the building blocks for analysts who might consider incorporating ESG factors into an equity valuation.
John Sanders Jr. and Dakota Ask
The valuation of small businesses often requires the application of valuation methods that are somewhat distinct from those used to value large companies, although they adhere to the same valuation concepts. This article explores the distinctions between large and small businesses, various normalization adjustments that may be necessary, and the valuation approaches and methods commonly used to value small businesses.
Lisa Tran
In transferring assets from one enterprise to another, it may be important to distinguish between personal goodwill and entity goodwill for tax reasons. This article notes how closely-held-business owners can realize significant tax savings if they can allocate portions of the total transferred enterprise value between company-owned entity goodwill and individual shareholder or employee-owned personal goodwill.
Willamette Insights Back Issues
Insights was Willamette's noted APEX Award of Excellence winning publication from 2010 through Winter 2023 for the scholarly examination of the contemporary and complex issues in the areas of business valuation, forensic analysis, and financial advisory services. Each Insights issue focuses on a specific topic or theme, such as discussions related to transactions, taxation, financing, bankruptcy, litigation, and strategic planning. Below are links to articles from recent issues, and links to older issues.
Winter 2023: Best Practices
Editor for this issue: Robert F. Reilly, CPA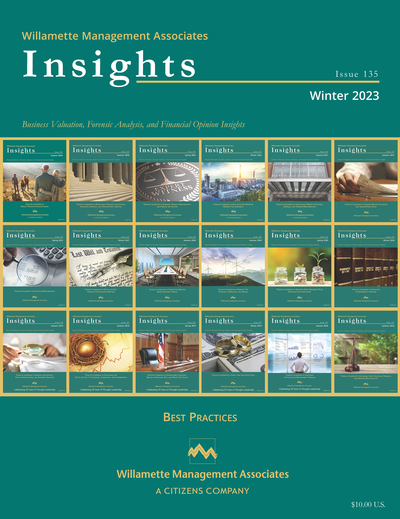 Transfer Tax Valuation Thought Leadership
Damages Measurement Thought Leadership
Property Appraisal Thought Leadership
Fair Value Measurement Thought Leadership
Valuation, Damages, and Transfer Price Thought Leadership
Reasonableness of Compensation Analysis Thought Leadership
Autumn 2022: Thought Leadership in Wealth Transfer Valuation Issues
Editor for this issue: Weston C. Kirk
Summer 2022: Thought Leadership in Professional Practices and Licenses Valuation, Damages, and Transfer Price Analyses
Editor for this issue: Samuel S. Nicholls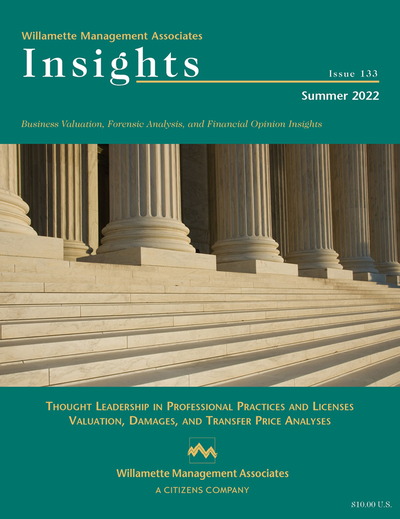 Professional Practice Valuation, Damages, and Transfer Price Thought Leadership
Professional Practices and Licenses Valuation Thought Leadership
Income Tax Thought Leadership
Winter 2022: Thought Leadership in Unit Valuation Principle Property Tax Appraisals
Editors for This Issue: Connor J. Thurman and John C. Ramirez